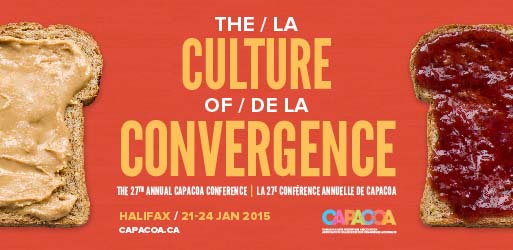 CAPACOA 2015 CONFERENCE


ABOUT THE CONFERENCE
A four-day gathering of Canada's national presenting and touring sector, the conference is an opportunity to reconnect with your colleagues and make new connections from coast to coast to coast. With more than 250 presenters, agents, managers, artists and other performing arts professionals in attendance, participants can expect new networking opportunities, informative sessions and peer meetings as well as nightly theatre, music and dance performances and showcases throughout the city.

A PROPOS DE LA CONFÉRENCE
La conférence de CAPACOA est une réunion de quatre jours qui rassemble des membres et des parties intéressées du secteur national et international des arts de la scène et de la tournée, et qui se concentre sur le perfectionnement professionnel, le réseautage et la promotion des arts.

Elle réunit plus de 250 entrepreneurs culturels et intervenants clés qui œuvrent dans le secteur des arts de la scène à l'échelle nationale et internationale. Son programme comprend une salle d'exposition, des prestations artistiques sur scène, des réunions entre pairs, des conférenciers d'honneur, des ateliers et d'autres activités visant à faire progresser le secteur et à l'unifier.




Nothing found